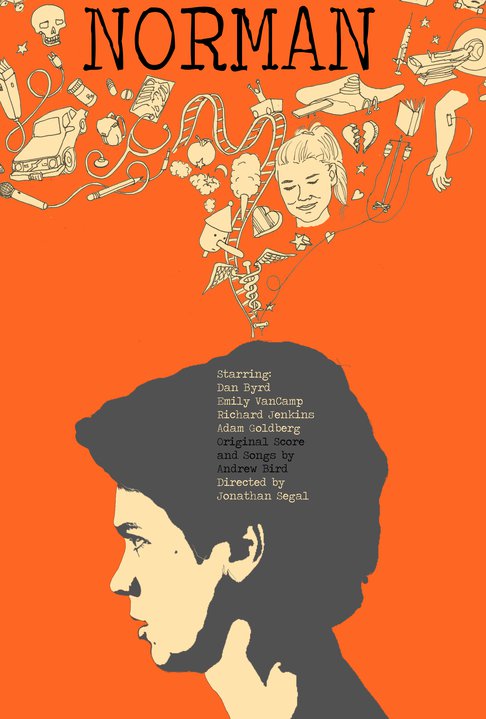 The Indie film Norman not only has an incredible cast—starring Dan Byrd, Emily VanCamp, Richard Jenkins, and Adam Goldberg, but also great music; the movie's original score and songs were put together by the talented Andrew Bird
The film which was directed by Jonathan Segal has already won several awards in various film festivals around the country which include:  Chicago International Film Festival, Woodstock Film Festival, San Diego International Film Festival, among others.
Synopsis from the Official Website:
"Norman Long is a high school loner, a self-aware and darkly funny teen who's just trying to handle his daily existence. In the wake of his mother's sudden death, Norman must now also deal with the reality that his father is starting to lose his battle with stomach cancer.

Norman, depressed and angry, unintentionally gets caught in a lie that he, in fact, has stomach cancer. Soon his complete distortion of the facts spirals out of control. Part coping mechanism, partially as a way to feel closer to his father, and to a certain degree to prepare others for his possible suicide, Norman begins to imitate his father's debilitating physical symptoms, dramatically affecting his life and the world around him.

Emily, a magnetic girl with one of those rare enchanting smiles, gets caught up in Norman's fabrication and struggles with her deep rooted romantic feelings in the face of Norman's "impending" death. Ultimately, Norman must confront a burning set of conflicting emotions as he struggles to define his relationship with his father, his love for Emily, and ultimately who he will be as a young man."
Norman is screening in select theaters, to keep up with the screening schedule you can hit up their Facebook page.
Watch the trailer below!
You Might Also Like: