Articles tagged with: TEENS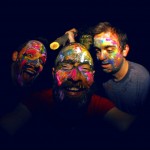 Some members of the band TEENS headed to Idaho with a plan in mind…school. Well, school turned into starting a band and recording an album in a former 1960s bomb shelter.
The full story about TEENS' Music has the Elements of an Atomic Bomb
TEENS stay true to their psychedelic sound by going as far as recording their latest album in an underground Cold War era bomb shelter. What's cooler than that? Umm…nothing in my book, yet.
The full story about FREE DOWNLOAD: Garage/Surf/Punk Band TEENS' Album