On Saturday night Southern comfort was felt throughout the Hollywood Bowl, as Angelinos dressed in cowboy hats, plaid shirts– with beer in hand– packed a full-house for Brad Paisley's
Virtual Reality Tour
. Los Angeles was the last leg on the US portion of the tour, and
Paisley
made sure it was a memorable one.
Without a doubt Paisley is a likable guy, not only because he can write songs about pretty much everything, from drinking and cars, to swooning the ladies, but also because of his humor and down-to-earth persona. This humble gent from West Virginia had everyone in the audience feeling like they were watching a close friend perform in an intimate setting, rather than being in the 18,000 capacity filler that is the Hollywood Bowl.
Along with great country tunes, Paisley  joked about politics and the "feminization of the modern man" mid-tune, "I'm Still A Guy." Adding how the ladies are hard on guys by making the fellas get facials, highlights, waxing and being the purse-holder at the mall.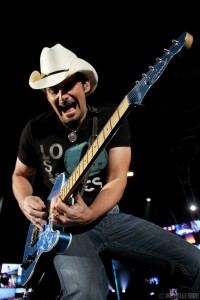 One of the things that makes Paisley shine onstage is his guitar playing, showing off his lead-guitar skills in songs like "Alcohol" and "Ticks." While also bringing some variety to his fans, with newly released lead single "Southern Comfort Zone" off his forthcoming album– a synthesizer-friendly tune that strays away from his traditional sound, proving that he can do it all.
A moment that hit home for everyone, showing just how genuine Paisley is in his entirety, was when he made his way through the crowd half-way up the amphitheater, where he performed a solo guitar version of "Letter To Me." He took that time to thank everyone for their attendance, especially in "these economically hard times."
American Idol winner, Scotty McCreery joined him on stage for "Celebrity," as did Kimberly Perry– from the Band Perry– for a duet of "Whiskey Lullaby." But McCreery and Perry weren't the only cameos during the show, fans rushed to the front with cameras in hand, cheering wildly when they saw Carrie Underwood join Paisley for the power ballad "Remind Me," just to discover it was a very well played-out hologram of the singer. The tour name says it all: virtual reality.
The concert held an array of diversity that pleased just about every attendee: classic country covers, duets, the organic simplicity of an acoustic guitar and a great voice, a lovers' soundtrack under the drizzling rain, honkey-tonkey tunes to dance to between the seat isles, music that celebrated family, love and most importantly, life.
Brad Paisley Virtual Reality Tour Setlist:
Camouflage
The World
Welcome to the Future
Ticks
This Is Country Music
Waitin' on a Woman
Celebrity
She's Everything
Online
I'm Still a Guy
Then
Letter to Me
Mud On The Tires
Working On a Tan
Whiskey Lullaby
I'm Gonna Miss Her
Remind Me
Old Alabama
Water
Encore:
American Saturday Night
Alcohol
You Might Also Like: