by Ryan Greenblatt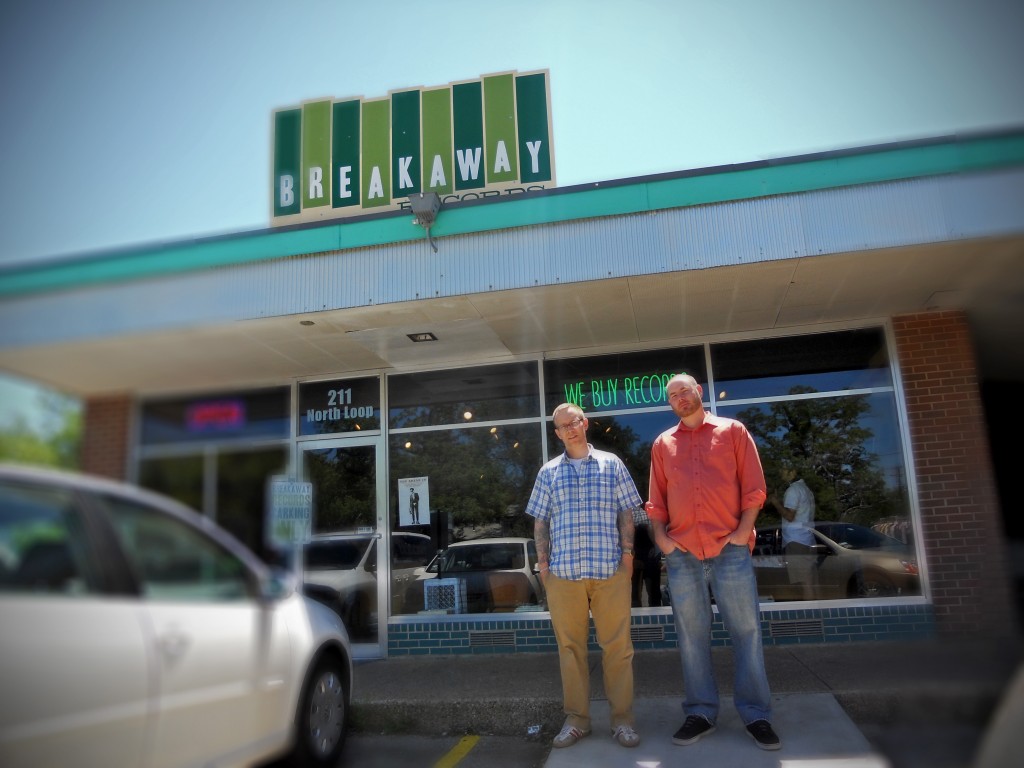 The majority of national holidays, or celebrated national events these days are seemingly boring and/or meaningless to most people (i.e. Presidents Day– which by the way is hilarious: so what if a few presidents have birthdays in the same month! I mean…right?!), but once a year, for vinyl-heads and all those who seek out exclusive recordings, there is Record Store Day!
Record Store Day (RSD) began five years ago, and has gained some major traction with more artists contributing, and more locally owned record stores all across the nation participating.
In Austin, TX there were fourteen(!) great stores partaking in RSD. I decided to hit up my favorite local shop, Breakaway Records, to check out the exclusive RSD releases, and revel in the day's activities.
Breakaway offered several cool records including an exclusive Mars Volta release, a Nirvana BBC sessions album, a Stax Records box-set, and a rare Joe Strummer album featuring previously unreleased tracks. I arrived a little over an hour after Breakaway opened and they had already sold close to 70% of ALL of their RSD releases. Luckily, I was able to snag a Pixies BBC Sessions record titled Into the White: BBC Tapes 1988-1989– which has a rad version of the Beatle's "Honey Pie" on it that I suggest everyone check out. To celebrate the day, Breakaway had local DJs spinning an array of tasty cuts all day long, and they offered patrons food and drink, which in Texas means cold, cold Lonestar beer.
In the midst of all the great music and happy record-store shoppers, I had the privilege of speaking with Josh LaRue, co-owner of Breakaway Records. Breakway Records sells mostly used records and started four years ago by LaRue and Gabe Vaughn; both owners also DJ on the side and are very much 'vinyl-heads'.
We discussed the impact of RSD on locally owned record stores, the sales climate of the vinyl industry, sound quality, and the juxtaposition of having a day devoted to both the sale of music and the promotion of vinyl, which many consider to be the end all medium for music.
In regards to why people like vinyl in general Josh added: "The main part for me, and [also] a selling point is, I do think it sounds better, and I also think people like the tangibility, having an actual object."
Josh grew up on vinyl, and while I grew up on CDs, I agree with him. I have many memories of spending hours reading through the booklets included with the CDs of my favorite bands. Learning the lyrics, inspecting the pictures, and even seeking out some sort of secret meaning that only could be deciphered from pouring over the liner-notes. At the risk of sounding codgerly, it's something I feel the digital generation is missing out on almost completely (a digital download accompanied with a PDF of the cover and booklet is just not the same).
Josh's argument for the steady rise in vinyl sales had more to do with sound quality: "To me if you're really going to listen to super high-quality audio, it probably means you're going to be at home and focused on it…if records are…still accepted to be the premier format, then why not listen to records." In fact some people are trying to duplicate the quality and tone of records in the digital format. My only argument against vinyl– Josh said he could relate– is that it takes up tons of space, and it is not exactly portable.
Truth be told, I am a RSD n00b, and I hadn't actually heard of it until last week, but now that I am aware I feel like it's everywhere. Even Yahoo.com's main page had a story covering RSD and local radio was also pushing the day pretty hard. It occurred to me while I was in the store that RSD is semi-contradictory: vinyl-records epitomize the 'cool' of music and are the furthest thing from 'selling-out' possible, yet this is a nationally sanctioned sales day that while not exactly corporate– all participating stores are locally owned– is still focused on the bottom-line. Josh helped quell my fears that RSD was even slightly associated with 'the man' by explaining that the business itself is very hard in terms of actually making any money, and a day like this is good not only just for sales but because it brings more awareness to records in general: "There's a ton of people in here today that I've never seen before…hopefully they'll think the shop was cool and remember it and want to comeback."
For the record– pun INTENDED– I own around fifteen records that I have bought or found in various settings [thanks Mr. Strickland!], and even though I am attached to my iPod like whoa, I would never give up my records. I plan on adding to my collection for years to come. If you want more information on Record Store Day, you can check out Recordstoreday.com, or– and I urge you to do this– you can get off your ass and go to your local record store!
You Might Also Like: