by Michelle Bird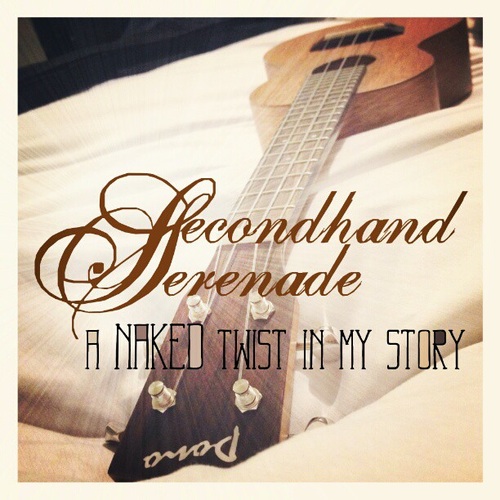 Storyteller of hearts, unraveling the truths of love's hidden agenda is what
John Vesely
does best while writing music under the moniker
Secondhand Serenade.
His new album, 
A Naked Twist in My Story,
is a stripped-down acoustic version of 2008′s
A Twist in My Story. 
The nostalgic sounds of a piano, intertwined with violins opens up the first track "Like a Knife." The title of the song sums up best what it's about: when someone who meant so much suddenly walks away, it ends up hurting like a stab from a knife, and Vesely's emotionally inundated vocals will definitely make you feel the wound.
Tracks that follow include favorites, "Fall For You" and "Maybe," as well as the lighthearted romantic ukelele tune, "Stranger."
The simplistic affair between the piano and Vesely's voice in "Your Call" makes the song that much more intimate. Vesely's vocals shine throughout , as violins stay on the outskirts, letting the sound of the ivories strip every lyric sung to its bare bones.
Every track on the record has had either something added or the arrangement changed. It also contains a bonus track, "Belong To"– which blends right in with the rest of the album, leaving the listener craving for new material from Vesely, who is currently in the process of just that, as he works on a new record.
Ultimately A Naked Twist in My Story delivers exactly what your heart wanted to hear or say, and there's no better form of expression– especially when it comes to love– than music; to push you forward, to give you hope, to mend your wounds.
Album favorites:
Like a Knife
Suppose
Stranger
Fall For You
Maybe
A Naked Twist in My Story Tracklist:
1.  Like A Knife
2.  Fall For You
3.  Maybe
4.  Stranger
5.  Your Call
6.  Suppose
7.  A Twist in My Story
8.  Why
9.  Stay Close Don't Go
10. Pretend
11.  Goodbye
12. Secondhand Serenade – Belong To (Bonus Track)
A Naked Twist in My Story is available for purchase  on iTunes.
You Might Also Like: